MEDIA CENTRE – WITH ADDED ELO BOOST!
Let masters and grandmasters show you how to correctly open the game, calculate variations, outplay your opponent or grind out the win with exceptional technique! The Chess Media System, complete with a synchronized board for displaying games, was made for chess coaching – and is a great deal of fun to boot!
400,000 minutes of video material!
Here you will find more than 13,000 training videos on all areas of chess, chess shows, tournament reports, interviews and a great deal more. Enough material to see you make vast improvements across the board.
CHESSBASE PREMIUM LECTURES
"POWER PLAY" show with Daniel King
What is the key to a successful attack on the king? How can I improve the harmony of my pieces? The Power Play show continues in the vein of Daniel King's DVD series – except that the games are from current events. It is geared toward improving your chess knowledge in a fun and entertaining way.
"Understanding before Moving" von Herman Grooten
The renowned Dutch trainer and author IM Herman Grooten, has already published over 100 video training units under the title "Understanding before Moving" and focuses on the deep understanding of opening systems or pawn structures.
"Endgame Magic Show" with Karsten Müller
The endgames expert from Hamburg regularly welcomes guests to the ChessBase studios, including Peter Heine-Nielsen, Mihail Marin, Alexei Shirov, Sergei Tiviakov and others! Come along and explore the ever fascinating world of endgames!
"FAST AND FURIOS" MIT ROBERT RIS
IM Robert Ris shows sharp and double edged opening lines. If you like sacrificing or playing gambits, this show is a must see. You'll not only benefit from interesting opening ideas, but will also learn a lot of opening concepts too.
"GAME OF THE WEEK" MIT MERIJN VAN DELFT
Every week fascinating chess games are played around the globe. IM Merijn van Delft picks his favorite game and explains all aspects from the opening to endgame which will enrich your knowledge of all phases of the game.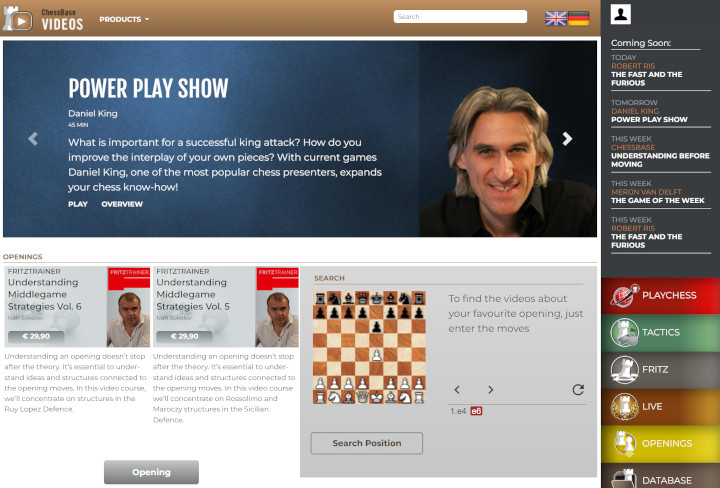 TRAINING
Why not take time out and enjoy an hour of the finest chess coaching! In our "60 Minutes" series some of the world's strongest players and trainers explain classic opening systems, or have a concrete improvements for your repertoire. The complete range of "60 Minutes" videos is available online.
In addition, all the training videos from ChessBase Magazine are available here.
We particularly recommend checking out the "Move by move" column, where you learn winning techniques from recent grandmaster games. Answer the questions posed by GMs Daniel King or Simon Williams and understand the strategies employed by masters as they push to convert an advantage into a win!
Other items include:
"Strategy": Improve your strategic understanding with GM Mihai Marin
"Traps": Rainer Knaak showcases a range of opening traps that opponents just love to fall into
"Endgames": Let Karsten Müller, the renowned endgames expert, introduce you to the finesses of the later stages of the game
"Tactics": Enjoy solving Oliver Reeh's favorite combinations, and do something for your playing strength!