INSTANT ACCESS TO 8 MILLION GAMES
Has anyone played this move before? What's the main line after 9.Re1? What are the results in my favorite variation – and how can I improve on them? The ChessBase Live database provides you with access to games from across the entire history of chess. Enter moves on your board to see which top players prefer a specific variation at the click of a mouse. Take a look in the variation tree to see the latest theory – as well as other promising continuations!
ALWAYS UP-TO-DATE
The Live database is updated every week with the latest games from across the world of chess. You don't need to worry about what would otherwise be a very time-intensive process: adding the latest games, editing, avoiding doubles. ChessBase takes care of the database maintenance for you. All in all, the Live Database grows by over 200,000 games every year – without your doing a thing!
24/7 AVAILABILITY ACROSS THE GLOBE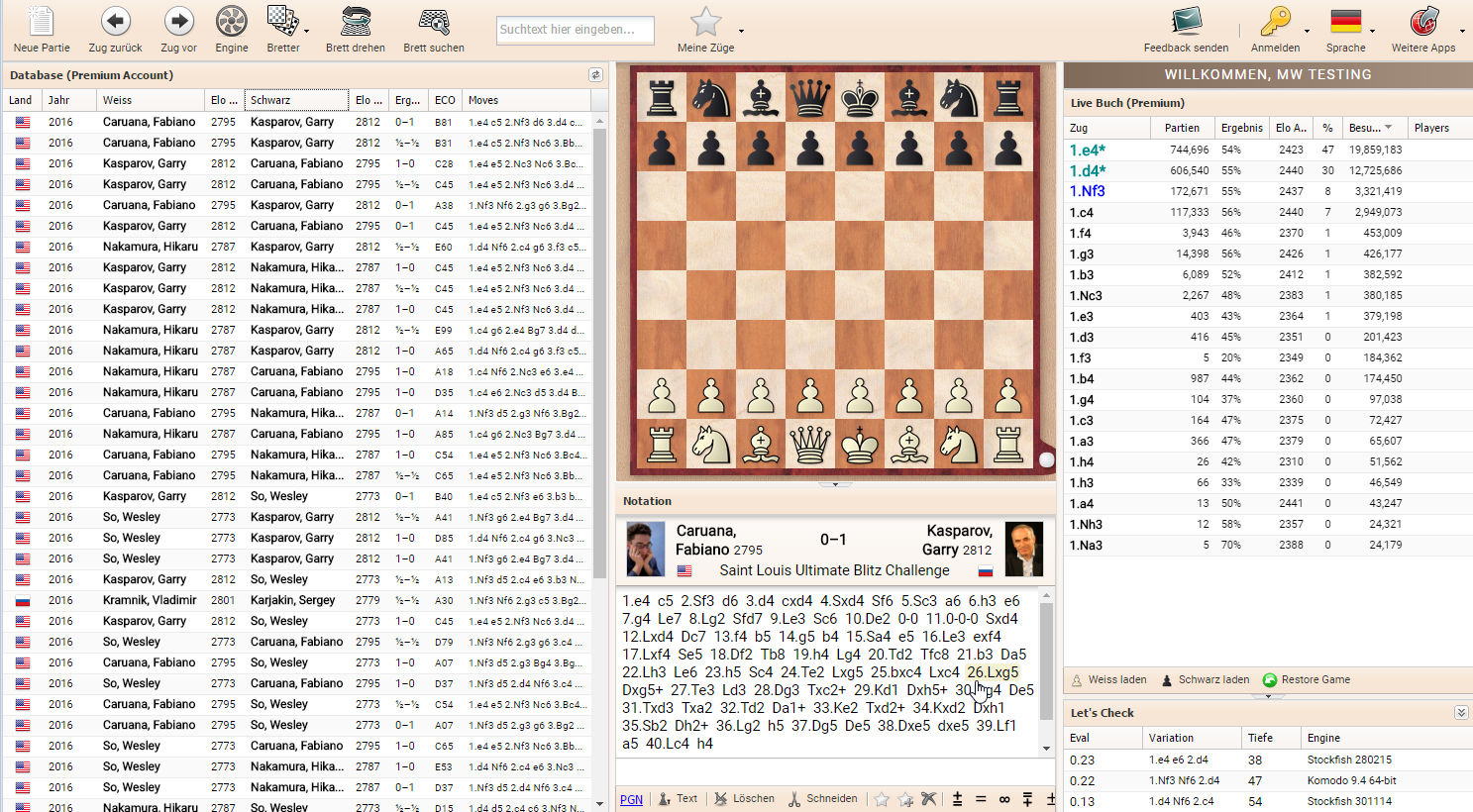 Wherever you may be (and provided you have an internet connection), the Live Database is online and available around the clock. Find historic masterpieces, short brilliancies, play back sacrificial adventures, analyze kingside attacks or compare variations all in a matter of seconds.
GET CONNECTED
The Live Database offers more – in addition to almost all recorded games ever played, you also have access to the world's largest analysis database, "Let's Check". This feature is a fantastic boost, especially for opening play, with over 200 million positions having already been analyzed in depth. Includes Endgame Turbo with all 5-piece and the most important 6-piece endgames! If you are in need of an analytical engine, then start the integrated chess engine: Fritz online
THE WAY TO PLAY TODAY
Opening books are a popular tool for studying the early stages of the game and providing statistical data on a position at a glance. The Live Book goes one step further: it is the most comprehensive and up-to-date source of opening moves around – making it the ideal choice for checking your favorite variations. How is this different to a standard opening book? A clue is in the name! Every position anyone has analyzed using the Let's Check function is automatically added to the Live Book, so that it grows and becomes more accurate all the time. Variations really come alive with the ChessBase Live Book!