THE WORLD OF CHESS
The leading chess news site, ChessBase News, brings you daily updates from top tournaments around the globe. The most important games are even broadcast live, featuring up-to-the-minute analysis in tournament reports. ChessBase News is your go-to hub for everything that's happening in the world of chess, complete with beautiful pictures and reports about players, places and organizers.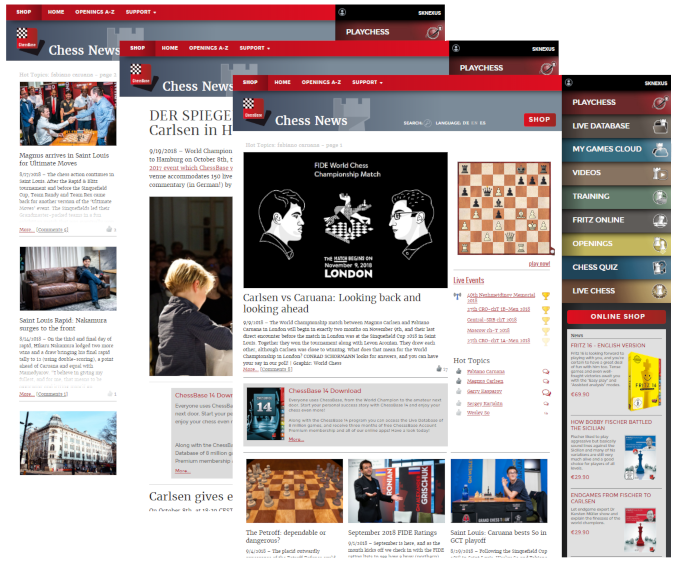 THE LATEST GAMES - ON YOUR SCREENS!
CB News features the games from top tournaments live, and also provides them in PGN format to play back through afterwards, complete with analysis. You can open them with any Fritz or ChessBase program – or why not try loading the database directly into your "MyGames" folder, if you fancy taking a look when on the move?
TRAINING INCLUDED
Take advantage of our free tactics and endgame blogs, which offer a large amount of training material. Each week, IM Oliver Reeh and endgame expert Dr. Karsten Müller have challenging tactics puzzle and an instructive endgame position ready for your enjoyment. Be sure to take a look at the puzzles and hone your calculation skills first before checking out the well explained solutions! Visiting ChessBase.com is definitely worth your while!
YOUR OPINION MATTERS
Chess goes beyond the 64 squares – which is why our newspage features more than just reports on games. Exhibitions, chess history, club celebrations, culture and chess politics also reported on in abundance. But it doesn't stop there. You can comment on the analysis and reports on ChessBase News and give your view on topical issues simply by logging in with your ChessBase Account! Be a part of the discussion!